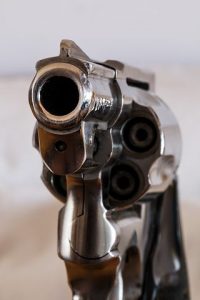 The United State Attorney's Office for the District of Maryland recently announced that a Baltimore man pleaded guilty to one count of discharging a firearm in relation to a drug trafficking crime.  The incident occurred in northwest Baltimore City in the area of Park Heights Avenue and Cold Spring Lane, where according to facts recited in the plea, the defendant and codefendant regularly sold marijuana.  Specifically, the defendant admitted to selling marijuana in the area for several months from the end of 2018 to early 2019 when the incident occurred.  On February 22, 2019 the defendant admitted that he was selling marijuana while armed with a handgun.  The defendant then observed a suspicious vehicle that appeared to be watching him and his co-conspirators.  The suspicious vehicle parked close by and the defendant called the driver over to speak with him.  The defendant then observed that the driver was armed and a struggle to disarm the man ensued.  The driver broke free and began to run away, along with two other occupants of the vehicle.  The three men were chased by the defendant and his co-conspirator, and multiple shots were fired in their direction.  One of the vehicle occupants was shot multiple times and died from his injuries.
The defendant was originally charged with first-degree murder, second-degree murder, first and second-degree assault, firearm use in a crime of violence and handgun possession in the District Court of Maryland on Wabash Avenue.  The only charges that made it to the Circuit Court were first-degree murder, firearm use in a crime of violence, firearm possession by a convicted felon, and handgun on person.  The case was nolle prossed. in August of 2019 and then filed in Federal Court.  The federal government and the defendant have agreed to a plea that includes a jail sentence of 20 to 25 years in prison.  Under 18 U.S.C  § 924 discharging a firearm in a crime of violence or drug trafficking crime carries a 10-year mandatory penalty.  If the judge accepts the guilty plea at the March sentencing hearing plea the sentence will be within the range of 20-25 years, and likely followed by supervised release.  This case is another example of the federal government agreeing to prosecute a case that would otherwise be handled in state court.  As we have stated over the last several years, the U.S. Attorney's Office in Maryland is eager to prosecute gun cases in Baltimore City that involve convicted felons, drug trafficking and crimes of violence.
It appears that the defense worked out a favorable plea deal, although 20-25 in federal prison is certainly a heavy sentence.  The defendant avoided a murder conviction and a potential life sentence, which even in state court would likely end up being more than 20-25 years.  Unlike the federal system that did away with parole, Maryland still paroles almost all of its prison inmates at some point.  Parole for a life sentence though is still not a foregone conclusion.  The Blog will continue to follow this case and other state cases that are picked up and prosecuted by the feds.  As long as the gun violence in Baltimore City remains at critical levels the feds will continue to intervene with prosecutions.  Benjamin Herbst is a Maryland criminal defense attorney who specializes in gun crimes and federal weapons crimes such as handgun possession by a convicted felon, use of a firearm in a crime of violence or drug trafficking crime, improper exhibition of a firearm, assault, carrying a concealed firearm, murder and attempted murder.  He is also licensed to practice criminal defense in Florida, where he has won numerous jury trials for the most serious of gun offenses.  Contact Benjamin anytime for a free consultation at 410-207-2598 or 954-543-0305 in Florida.
Resources
Baltimore Marijuana Dealer Pleads Guilty to Federal Charges of Discharging a Firearm in Relation to a Drug Trafficking Crime, justice.gov.