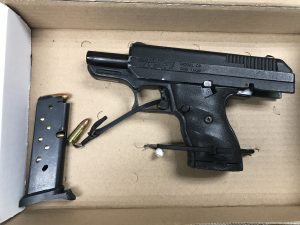 Deputy Sheriffs recently arrested two Virginia men for gun possession in Saint Mary's County.  After being booked on the misdemeanor gun charges, the pair were taken before a District Court Commissioner and both were released on a $5,000 unsecured bond.  This type of bondwould only become due in the event of a failure to appear in court.  The arrest occurred after a traffic stop in Lexington Park that was initiated after a Deputy observed an alleged equipment violation.  According to the report, the stopping Deputy immediately noticed a firearm wedged between the passenger seat and the center console upon approaching the vehicle.  After the occupants were ordered out of the vehicle and detained a more thorough probable cause search was performed.  Deputies recovered one .40 caliber Glock handgun with an extended magazine from the aforementioned location by the passenger seat.  Another magazine was recovered in the passenger door compartment, and both the magazine and the Glock were loaded with live rounds.  Police also recovered a .22 caliber handgun in a bookbag on the passenger floorboard.  This gun was unloaded, but the bag also contained two .22 caliber magazines that were loaded with live ammunition.
The 32-year-old driver was charged with one count of handgun in vehicle, which carries a maximum penalty of 3 years in prison and a $2,500 fine.  The driver was charged under the same Maryland law that prohibits wearing, carrying or transporting a handgun.  This law, section 4-203 of the weapons crime title, also carries a 30-day mandatory sentence, but the mandatory is seldomly imposed.  In order for the State to even request the mandatory sentence it must file notice on the defense at least 30 days before trial.  Additionally, the judge can circumvent the mandatory sentence by granting probation before judgment, as the mandatory only applies upon conviction.  The passenger of the vehicle was charged with one count of handgun in vehicle for the same firearm as the driver, and another count of loaded handgun in vehicle for the Glock that was recovered within his reach.  Loaded handgun in vehicle carries the same maximum penalty as handgun in vehicle, but could result in more significant penalties for repeat offenders.  In fact, a person convicted of possessing a loaded handgun after having a prior handgun conviction faces a 5-year mandatory sentence.
As a result of the passenger and driver being charged with misdemeanor offenses, it is safe to assume that they have no prior convictions for crimes of violence or felonies.  With these convictions, both would have been classified as prohibited persons, and thus subject to a 5-year mandatory prison sentence under the Maryland Public Safety code.  They also would likely have been held without bail by the District Court judge instead of being granted unsecured bail.  This case brings up a recurring issue that the Blog has been the topic of prior posts.  Maryland has some of the toughest gun laws in the region, and out-of-state residents from states such as Virginia, North Carolina and Florida often fall victim to these tough laws.  For example, Virginia is an open carry state that allows drivers to transport a gun without a permit as long as they are not prohibited from possessing a gun.  The firearm can be loaded, and the only requirement is that it must be placed in a container or a case such as the glove compartment or center console.  The container does not have to be locked.  While the two individuals arrested in Lexington Park were not in strict compliance with Virginia law because the guns were not stored in a latched container or case, they realistically may have thought their actions were legal.  One would think the passenger would have made an attempt to conceal the handgun from plain view of the Deputy Sheriff if he thought he was breaking the law.
Virginia law is obviously much different than the Maryland law regarding transporting a firearm.  In Maryland a person who does not hold a state carry permit may not drive with a gun in his or her vehicle unless it is in a case, unloaded and the driver is going to and from a home or the gun shop/range.  Out-of-state residents traveling through Maryland often assume the gun laws of their state are the law of the land, but unfortunately this is far from the case.  Benjamin Herbst is a Maryland gun crime lawyer who specializes in representing out-of-state residents from places such as Virginia, North Carolina, Georgia and Florida for unlawfully transporting a firearm.  He also specializes in felony gun crimes such as possession by a prohibited person, and violent offenses such as aggravated assault and use of a firearm in a crime of violence.  Contact Benjamin anytime at 410-207-2598 for a free consultation about your adult or juvenile gun charge in Maryland.  Benjamin is also licensed in Florida, and has extensive experience with misdemeanor and felony gun crimes, drug charges and assault and battery.
Resources:
Two Virginia Men Arrested on Gun Charges Following Traffic Stop in Lexington Park, southernmarylandchronicle.com.