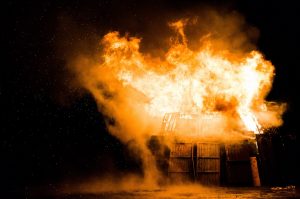 In the summer of 2017 a dangerous multi-alarm fire broke out a popular local bar in Pasadena an hour after closing time. More than 75 firefighters responded to the scene and one suffered injuries trying to battle the blaze, which spread from the side of the building and into the attic. After an hour and a half of intense work Anne Arundel County firefighters were able to extinguish the fire, but not after it caused over $200,000 worth of damage and shuttered the bar indefinitely. The fire began around 3 a.m. on a Friday morning, and by Saturday law enforcement already had determined that the fire was likely set intentionally. The ATF immediately began an arson investigation, but charging a suspect for setting the fire probably took a little longer than they had expected.
Just over two years after the fire, federal law enforcement has announced the indictment of a 34-year old Pasadena man who was a regular patron at the bar. The defendant and his attorney have not made a statement, and law enforcement has not yet released details on a possible motive. The bar owner was interviewed by local news outlets and stated he was not surprised to learn the identity of the arsonist, but did no go into further detail just why he felt the way he did. Unlike the large majority of cases that are investigated by the state fire marshal and prosecuted in state court, this particular arson case will be prosecuted in federal court under a statute that carries a 5-year minimum mandatory prison sentence upon conviction. 18 U.S. Code 844 states that anyone who damages or destroys a building or other real property that is either owned by the United States, receives federal financial assistance or is a part of interstate commerce faces up to 20 years in prison with the aforementioned 5-year minimum. The U.S. Attorney's Office did not specify how the building was tied to the federal government in any way, so the defendant must have been charged under the interstate commerce section of the statute. Interstate commerce has long since been a way for the federal government to intervene in matters traditionally reserved for state and local governments, but we'll say no more there at the risk of this post turning into an Interstate Commerce Clause discussion.
Under Maryland law there is no minimum mandatory prison sentence for arson. The maximum penalty for arson in the first degree is 30 years, while the max penalty for arson in the second degree is 20 years. Second-degree arson is defined as intentionally and maliciously setting fire to a structure. First-degree arson requires the state to prove the defendant set fire to a dwelling (home) or an occupied structure. Both are serious felony crimes, but only first-degree arson is considered a violent crime. Arson is not as common as its misdemeanor counterpart, malicious burning. In Maryland malicious burning is defined as intentionally setting fire to another person's property. The two degrees depend on the value of the property, with first-degree being over $1,000 and second-degree being under $1,000. First-degree malicious burning is a felony and carries a 5-year maximum penalty, while second degree carries an 18-month maximum jail sentence. Other common fire related crimes in Maryland include burning with the intent to defraud, which is a five-year misdemeanor and threat of arson, which is a ten-year misdemeanor.
Right now this particular arson case is in the early stages, and there are no trial dates currently set. The Blog will continue to track the case and may post a follow up article if there is a plea deal or a trial. Either way, we will likely find out more details about motive and the scientific evidence that lead to the indictment in the future. If you have been charged for any fire related offense including burning with intent to defraud or malicious burning contact Maryland arson lawyer Benjamin Herbst anytime for a free consultation. Benjamin is an experienced arson lawyer who has handled numerous cases and has worked with experienced fire science experts. He is available at 410-207-2598 seven days a week and offers flexible payment plans.
Resources
Maryland Man Facing Federal Arson Charge for Fire at a Pasadena Bar, justice.gov.