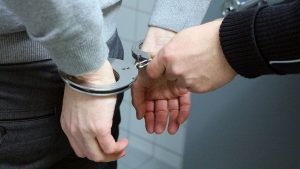 A veteran officer of the Anne Arundel County Police Department was arrested last week in Howard County on multiple charges including assault second degree, resisting arrest and disorderly conduct.  The 35-year-old corporal from Pasadena has been with the department for 8 years, and was suspended with pay following the arrest.  He currently is scheduled for trial in Ellicott City on July 13, though the case may be postponed or moved to the circuit court before it is resolved.  All of the charges are classified as misdemeanors, but the defendant can elect to have a jury trial if he and his attorney prefer the case to be handled in circuit court.
According to the statement of charges, Howard County Police officers responded to a bar on Washington Blvd. in Elkridge shortly before 2 a.m. after a fight broke out.  As officers dispersed the crowd one person remained on the scene and was showing signs of intoxication.  This intoxicated individual turned out to be an off-duty police officer, and was placed under arrest after failing to comply with the Howard County cops and then allegedly kicking one of them.  The off-duty Anne Arundel officer was taken to central booking in Jessup and released on his own recognizance by the commissioner the same morning.  Assault in the second degree is the most serious charge that the suspended officer is facing, and under Maryland law it carries a maximum penalty of up to 10 years in jail.  A person convicted of second-degree assault in Maryland is also prohibited from owning or possessing a firearm according to the public safety code.  The public safety code in Maryland classifies assault in the second degree as a crime of violence, which can be confusing, as it is not considered a crime of violence under criminal law §14-101 for purposes of parole eligibility.
In Maryland, a defendant who has a conviction for second-degree assault faces a 5-year mandatory sentence if he or she is arrested for illegal possession of a firearm.  Even if the defendant who received probation before judgment faces this mandatory prison sentence if the case was marked domestically related.  In the case of the off-duty Anne Arundel cop, the case is not domestically related and thus he will not lose his ability to own or possess a firearm if probation before judgment is granted (after probation has been completed).  In all likelihood the suspended officer's lawyer should be able to convince the State to dismiss or nolle pros. the assault charge in favor of one of the lesser charges.  The most likely outcome in this case would probably look something like a plea to the disorderly conduct or a STET with the condition that the defendant complete some sort of alcohol treatment.  The officer is likely a first-time offender and will certainly face discipline for his actions from his employer, which is something the prosecution and judge should consider.  On the other hand, the judge and State may point out that a police officer should be held to a higher standard even when off-duty.  It will be interesting to see how this case plays out, and the Blog will post a follow up article upon resolution of the matter.
Benjamin Herbst is a Maryland criminal defense lawyer who specializes in assault charges including domestic assault and first-degree assault.  He has won numerous jury trials for first and second-degree assault even when the allegations included weapons, strangulation and serious bodily injuries.  He also has extensive experience defending individuals charged with battery, disorderly conduct, resisting arrest and violations of probation in both Maryland and Florida.  Benjamin offers free consultations 7 days a week, and can be reached at 410-207-2598 or 954-543-0305.
Resources
Maryland Police Officer Arrested, Suspended After Bar Fight, nbcwashington.com.