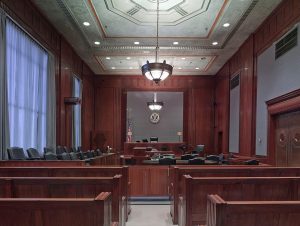 Federal law enforcement has made fentanyl a major priority, and last week a 26-year old Baltimore County man was sentenced to a decade in prison for possession with intent to distribute the deadly narcotic.  According to the statement of facts in the guilty plea, a Woodlawn man fled from Baltimore County Police after they tried to initiate a traffic stop.  During the pursuit officers allegedly observed the suspect throwing objects out of his car window as he fled.  Eventually police caught up with the suspect and search incident to arrest produced a digital scale and a baggie with 40 grams of fentanyl.  Had law enforcement stopped there the man would likely have been prosecuted in state court, but a search of his home pursuant to a warrant produced far more incriminating evidence.  Police ultimately discovered 3 kilograms of fentanyl and a loaded .380 caliber handgun.  The U.S. Attorney's Office stated in its press release that this amount of fentanyl would be enough to kill 1.5 million people.  The suspect was also prohibited from possessing firearms based on a previous drug conviction in the Circuit Court for Baltimore County.  He also had an earlier drug possession conviction in Baltimore City and a probation before judgement for driving on a suspended license.
The facts of the case were not especially unique and from what we can see the defendant was not alleged to have been an interstate drug trafficker, but the federal government still elected to prosecute this case.  For the last several years the feds have picked up gun and drug cases arising from Baltimore City, but with the sheer amount of fentanyl plus a gun being involved it is no surprise this Baltimore County case went federal.  Most of the time a defendant would much rather be prosecuted in Maryland state court, as the sentencing guidelines are typically lower and there is parole.  However, under these circumstances the defendant likely would have received a similar sentence in state court, as he would have been subject to three Maryland mandatory sentence provisions.  Anyone who is found to be in possession of more than five grams of fentanyl faces a mandatory 5 years in prison.  Additionally, the possession of a firearm in a drug trafficking crime carries a 5-year minimum prison sentence under state law.  The Woodlawn man may have also been subject to charges for possession of a firearm by a convicted felon/ person with a drug conviction under 5-601.  This offense also carries a 5-year mandatory sentence that cannot be suspended unless the prior offense had been closed for more than 5 years.  Closed means probation and parole must have been completed.
The Blog will continue to follow cases traditionally prosecuted in state court that are picked up by federal law enforcement.  A general rule is that any convicted felon who is arrested with a gun in Baltimore City could face federal prosecution, but now it is clear the feds are branching out to the County and other Maryland jurisdictions.  Based on this press release it is also clear that federal law enforcement agencies are actively pursuing anyone involved in fentanyl distribution.  If you have been charged with a gun or drug crime anywhere in Maryland or Florida call criminal defense lawyer Benjamin Herbst anytime at 410-207-2598.  Benjamin specializes in charges for drug possession, drug distribution, possession with intent to distribute and possession of a firearm by a convicted felon or disqualified person.  He offers free consultations and is available to defend clients from the Eastern Shore to Western Maryland.
Resources
Baltimore County Man Sentenced to 10 Years in Federal Prison for Possession with Intent to Distribute Fentanyl, justice.gov.