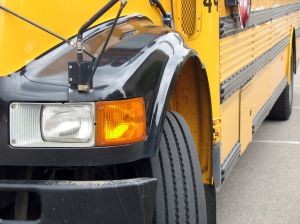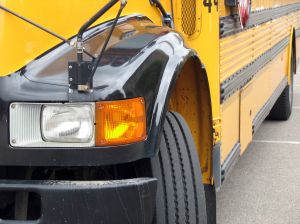 Maryland State Police troopers recently charged a Carroll County public school bus driver with DUI after her bus crashed into multiple telephone poles on Route 32.  Troopers responded to Bartholow Road in Eldersburg and observed such severe damage to the telephone poles that the road was forced to be shut down for roughly 9 hours.  According to reports the school bus drove off the roadway around 2 p.m., and police responded shortly thereafter.  Troopers allegedly observed signs of impairment on the driver that were consistent with recent consumption of alcohol or drugs, and later arrested her on charges of DUI and DWI.  Additional charges may be forthcoming pending the results of a blood analysis that was likely required by the officers.  There is no indication that the driver, a 54-year-old woman from Westminster, was injured, but it appears she was treated by medical personnel.  Reports stated the bus driver was in fact on her way to pick up children at one of the nearby schools, but law enforcement has not confirmed this as fact.  The two closest schools in the area are Eldersburg Elementary and Liberty High School.  At the time of this post the bus driver's charges had not been released publicly, but she will likely face a host of traffic violations in addition to DUI and DWI, such as reckless driving and negligent driving.  If the results of the blood test reveal an alcohol concentration of .08 or higher the driver will be cited for DUI per se, which carries a 1-year maximum jail sentence and a $1,000 fine.
While there were no children on the bus at the time of the accident, this case will not sit well with the State if indeed there is sufficient evidence of impairment.  The bus driver does not appear to have a criminal record, but does have two prior convictions for driving on a suspended license.  One conviction was from Baltimore County in 2014, and the other from Carroll County in 2012.  If in fact the bus driver was heading to pick up children from school there is certainly going to be a great deal of public attention surrounding the case.  The Blog will certainly follow its progress, and may post a follow-up article in the future.  Obviously, the situation could have been drastically worse if children were in the bus, so the accident may have actually been a blessing.
If there had been children in the bus, the driver could have faced a host of other charges, including criminal charges, regardless of whether an accident occurred.  For starters she would have faced charges for driving while impaired (or under the influence) by alcohol or drugs while transporting a minor.  The maximum penalty for DUI while transporting a minor is up to 2 years in jail for a first offense, which is double the normal maximum penalty.  Repeat offenders face up to 3 years for a second offense and up to 4 years in prison for a third or subsequent offense.  Under Maryland law the maximum penalty for DWI while transporting a minor is up to 6 months in jail, which is three times the normal maximum penalty of 60 days.  The maximum penalties are much harsher, and the judges and the State will also take these cases far more seriously.  For this reason, it is important to retain an experienced Maryland DUI lawyer for your charge right away.  There are a host of things that a defendant can do prior to court to improve the outcome of the case, and it should start right away.  Benjamin specializes in DUI while transporting a minor, federal DUI, repeat offender cases, out-of-state defendants and minors charged with DUI, and has successfully defended numerous clients charged with these offenses.  Call Benjamin anytime for a free consultation at 410-207-2598 and learn what defenses may be available in your case.
Resources:
Carroll County school bus driver arrested for DUI after crash, cashews.com/baltimore.