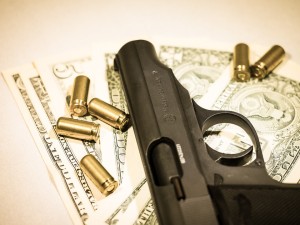 The U.S. Attorney's Office for the District of Maryland recently announced that a federal jury came back with guilty verdicts for two Washington D.C. men charged with committing armed robberies in Prince George's County. The verdict came after seven days of trial at the U.S. District Court in Greenbelt. According to evidence presented by the government at trial the two men robbed an auto repair business in Clinton, Maryland back in November of 2016, and then just four days later robbed a barbershop close to the D.C. line in Seat Pleasant. During the first robbery the men entered the shop brandishing firearms and ordered the two employees to the ground and stole their money. One employee was bound with zip ties while the other fought back and was shot. The shooting victim was severely injured and according to the government is now paralyzed. After committing the auto repair shop robbery the co-defendants fled in a stolen car and were not captured.
Four days later the same two co-defendants committed another armed robbery in nearby Seat Pleasant, and this time it didn't end so well for the pair and their unidentified getaway driver. After robbing patrons at a barbershop in a similar manner as the auto repair shop, the co-defendants fled in a stolen minivan. Only this time, police spotted the getaway car at an intersection and attempted to make a stop. The three robbers tried to flee from police and bailed out of the van to attempt to run away on foot, but two were captured almost immediately and other was captured a short time later. Upon searching the stolen van police recovered two loaded 9 mm handguns, one of which had an obliterated serial number.
While one of the defendants was awaiting trial in jail he apparently urged multiple acquaintances to visit the barbershop and dissuade witnesses from testifying. These conversations were recorded and introduced into evidence by the government, which led to a conviction for witness tampering in addition to multiple other convictions including armed robbery, use of a firearm in a crime of violence and possession of a firearm by a convicted felon. Inmates that are incarcerated pending trial often make the mistake of assuming their jailhouse conversations are private, when in fact the government is always listening. These conversations are admissible in court, and are frequently used to convict defendants in cases where other evidence may be lacking. Defendants and their families should conduct their conversations as if the prosecutor or law enforcement were right there in the room, as there is no reasonable expectation of privacy in jail.
The two convicted defendants are scheduled for sentencing in October in the Greenbelt federal courthouse and both face up to life in prison for their actions. The government did not indicate in its release what happened to the driver who was arrested in the second robbery nor did it reveal his identity. One reason for this could be that the driver cooperated with the government and helped secure convictions for the other two co-defendants. This of course is speculation, but the identities of cooperating witnesses will almost always be left out of the media.
The Blog will follow this case and may post an article in the fall after the sentencing hearing. In the meantime if you have a question about a criminal case, or if you would like to secure representation contact attorney Benjamin Herbst at 410-207-2598. Benjamin specializes in Maryland firearms charges such as handgun possession and transportation and possession of a handgun in a drug trafficking crime or crime of violence. He also handles robbery and armed robbery cases in all state and federal courts.
Resources
Two D.C. Felons Convicted After Trial of Committing Two Armed Robberies in Prince George's County, justice.gov.