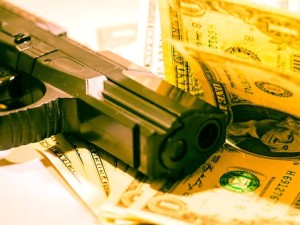 Over the summer a federal jury convicted two Washington D.C. men of multiple felonies after they were charged with committing two separate armed robberies in Prince George's County. This week at the United States District Court in Greenbelt one of the men was sentenced to 33 years in prison followed by 5 years of probation on charges including conspiracy to commit commercial robbery, discharging a firearm during a crime of violence, being a felon in possession of a firearm and interstate transport of a stole vehicle. At least two of these counts carry mandatory minimum sentences of up to 10 years in prison. Since parole has been abolished in the federal justice system the 46-year old defendant will likely be behind bars for close to 30 years. He may be eligible for time off his sentence for good behavior, but it is safe to say that he will not be released until his seventies.
The facts that came to light during the week long trial were about as bad as an armed robbery could get without someone actually being murdered. Assistant U.S. Attorneys proved the man and his co-conspirators entered an auto repair shop brandishing handguns and then bound and gagged one employee and shot the other when he resisted. The employee who was shot suffered life-threatening injuries, and is now paralyzed. Just four days later the men robbed a barbershop in Prince George's County in the same manner, but this time they were caught after a brief chase that ended in Washington D.C. To make matters worse, the defendant was also recorded on jailhouse phone calls attempting to persuade several different acquaintances to go to the barbershop and pressure witnesses not to testify at trial or before the grand jury. These phone calls were played in court, and resulted in a witness tampering conviction that was almost certainly factored into sentencing.
As we discussed in our previous post about this incident the driver of the stolen getaway vehicle used in the barbershop robbery was not a co-defendant in the trial, which could indicate that he was a cooperating witness. The names of cooperating witnesses will eventually be revealed if they are called to testify at trial, though it is typical for the prosecutors to leave this information out of official press releases. Cooperating witnesses are an essential law enforcement tool, and though they can't be hidden forever, police and prosecutors will still try to protect them to some degree. The exact terms of cooperation agreements are never announced in open court, though the agreements may be used by defense lawyers during cross examination. Cooperation agreements with the federal government typically contain some sort of sealed supplement that is part of the plea agreement, and when the sealed supplement is read in court only the judge, court staff, law enforcement officers and lawyers are permitted in the courtroom.
This case could have been prosecuted by the State's Attorney for Prince George's County, but the fact that the defendants crossed into Washington D.C. could have been one of the reasons why the feds decided to take the case. In addition, the robbery was committed on commercial property, which gives the federal government jurisdiction based on the principals of interstate commerce. We have blogged about numerous firearm cases in the Baltimore and D.C. Metro areas that have been prosecuted by the federal government, and this case is another example. The gun laws in federal court are even stricter than in Maryland state courts, and the sentences are longer. It is tough to say whether the defendants would have been better off facing trial in the Prince George's County Circuit Court. While the jurors would likely have been friendlier to the defense, the defendants could have faced attempted murder charges and decades more prison time. The Blog will continue to follow state and federal gun cases, and will post a follow up article on this case when the last defendant is sentenced in March. To speak to an experienced Maryland gun lawyer contact Benjamin Herbst anytime at 410-207-2598 for a free consultation. Benjamin handles all firearms offenses in state and federal court including possession of a firearm by a prohibited person, possession of a firearm on federal property, and wear, transport or carry of a handgun.  Benjamin specializes in representing out of state residents charged with gun crimes in Maryland, and has represented residents of North Carolina, Florida, Virginia, Kentucky, West Virginia and Georgia in gun charges.
Resources
D.C. Felon Sentenced to 33 Years in Federal Prison for Committing Two Armed Robberies in Prince George's County, justice.gov.