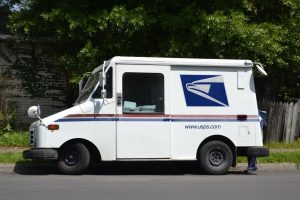 Montgomery County Police have charged a 32-year old mail carrier with multiple counts of theft for stealing numerous pieces of mail including a package containing rare coins worth close to $3,000.  The Greenbelt man has likely worked his last shift as a federal employee after allegedly confessing to the crime.  In addition to the confession, U.S. Postal Police Agents searched the defendant's home and found other pieces of stolen mail from his delivery route in Silver Spring.  The mail carrier now faces six charges in the Montgomery County District Court, including two felonies for theft over $1,500 but less than $25,000.  He is also charged with theft scheme, and conspiracy to commit theft over $1,500, for allegedly working with another person to sell the stolen goods.  Trial is currently set for February 25, 2020 in the Silver Spring courthouse.  Online court records show the man is represented by the Public Defender, though his income as a federal employee may bar their continued representation.
Like many theft defendants, the mail carrier may have sealed fate by trying to flip the stolen coins for cash too soon, and in the same general location as the theft.  It seems as if the defendant conspired with another person to sell the goods to a coin shop in downtown Silver Spring, in an effort to conceal his own identity.  Unbeknownst to the co-conspirator, the coin shop, and other coin shops in the area, had already been tipped off about the possibility of these specific rare coins potentially being stolen.  An email was apparently circulated to pawn shops in the region.  The Silver Spring coin shop refused to engage in a transaction, and contacted law enforcement to inform them of the development.  The investigation led officers to the mail carrier in Greenbelt, and upon being questioned he apparently admitted to everything.
The mail carrier likely does not have a criminal record, as the requirements to work for the USPS include strict background checks.  The strict requirements are consistent with the mail carrier's important responsibility of safeguarding private and potentially valuable pieces of mail.  In an age where we are shipping more things of value than ever before, USPS mail carriers have remained reliable and trustworthy.  By far the main concern with shipping packages in modern times is porch piracy, or the act of stealing delivered packages off a person's property.  Having a mail carrier actually steal your mail is the last thing we expect or can imagine, so an incident like this is definitely disconcerting.
The state and eventually the judge will not take the mail carrier's case lightly, and regardless of his clean background, the 32-year old Greenbelt man could face a stiff sentence due to the breach of trust.  This case is similar to an embezzlement or employee theft charge where the defendant uses his or her position of trust to commit a crime.  Jail time is not a foregone conclusion, but he could face the real possibility of a felony conviction if the case is not handled by a competent lawyer.  The defendant confessed and it appears the evidence will be more than sufficient for a conviction at trial, so the first goal for a lawyer in this case would be to attempt to negotiate a plea agreement to misdemeanor theft.  The value of the coins is clearly over the $1,500 threshold for felony theft, but a plea to misdemeanor theft less than $1,500 should still be on the table due to the defendant's cooperation and his clean record.  After working out a deal to misdemeanor theft, the defendant's next battle would be to fight for no jail time and probation before judgment.  While the federal government still counts PBJ as a conviction, under Maryland law it is not technically a conviction and may be eligible for expungement as little as 3 years.
The Blog will follow this case and all other Maryland criminal cases involving public employees.  Benjamin Herbst is a criminal defense lawyer who specializes in theft charges in all Maryland state and federal jurisdictions.  Benjamin has successfully defended hundreds of clients in misdemeanor felony theft cases, including embezzlement, shoplifting and employee theft.  He is available to offer a free consultation anytime at 410-207-2598.
Resources