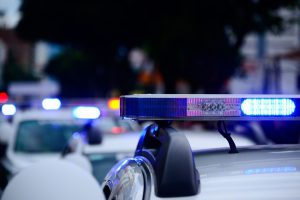 Last week Howard County Police arrested a man for theft after he allegedly stole $3,000 worth of merchandise from the Walmart located in Ellicott City off Route 40. The man was handcuffed and placed in the backseat of a county police cruiser while the officer concluded his investigation. But rather than wait for the officer to return and escort him to the police station, the man decided he wasn't ready to be booked for felony theft just yet. The suspect, who was handcuffed behind his back, found a way to move his arms to to the front of his body and then squeezed through to the driver's seat of the cruiser. It being a warm day, the air conditioning was likely on with the keys in the ignition, and all the suspect had to do was place the car in drive and he was on his way.
While it may have appeared for a quick minute that he was free as a bird, the fact that police weren't in hot pursuit as he drove east toward Baltimore only created the illusion that his getaway plan was working. Police knew the exact location of the suspect but chose not to engage in a high-speed chase for safety and tactical reasons. All Howard County police cars are equipped with GPS monitors, so once the car came to a stop the cavalry arrived and took the man into custody. He was located just a few miles away in West Baltimore, which is easily accessed by speeding down Interstate 70 past Woodlawn and Security Blvd. Instead of being booked for theft over $1,500 and less than $25,000, which is a felony with a 5-year maximum penalty the 32 year old Baltimore County man now faces 9 criminal charges and a host of traffic infractions. Also, rather than being released on his own recognizance by the commissioner or posting a small bond for the theft charge, the man is now being held without bond a the Howard County Detention Center in Jessup.
Among the additional charges the defendant now faces is motor vehicle theft, drug possession, unauthorized removal of a motor vehicle, resisting arrest, failing to obey a lawful command of a police officer and escape in the second degree. He was also issued citations for driving without a license, driving on a suspended license, leaving the scene of an accident and fleeing and eluding a police officer. The man was held without bond by both the commissioner and a district court judge, with the main reason likely being that he was considered a flight risk. Anyone charged with escape and even fleeing and eluding to a degree faces an uphill battle at bail review. In this case it appears as though the defendant made an impulsive decision to run, which does not necessarily translate to him being a high risk for failing to appear at court. The man probably should have been granted a bail, but the highly sensational and public facts surrounding the flight likely precluded bail from being an immediate possibility.
Escape is a fairly common charge in Maryland because the statute is broad and encompasses numerous different acts. First degree escape, which is a felony with a 10-year maximum penalty, is the most basic form of escape and the one most associated with a jailbreak. It covers breaking out of a place of confinement such as a jail, prison or juvenile detention facility. Second degree escape is far more common, and includes a variety of conduct that some people are not aware can result in a separate criminal charge. Failing to report to the jail to begin serving a sentence can be considered an escape, as can violating a home detention agreement while on probation or pre-trial release. Going beyond the "tether" zone of a GPS monitor is really all it takes to incur a new charge. Division of Corrections inmates that fail to return to their halfway house or work release can also be charged with escape, and have their parole revoked and or face a new misdemeanor charge with a 3-year maximum penalty.
The Blog will follow this case and may post an additional article if anything newsworthy comes out of the district or circuit courts in Ellicott City. If you have been charged with any criminal offense including theft, unauthorized use of a motor vehicle, escape or resisting arrest contact Maryland criminal defense attorney Benjamin Herbst for a free consultation. Benjamin handles cases in all jurisdictions including Howard County and Baltimore County, and is available 7 days a week to discuss your case.
Resources
Police: Maryland Theft Suspect Steals Officer's Cruiser While Handcuffed, cbslocal.com.