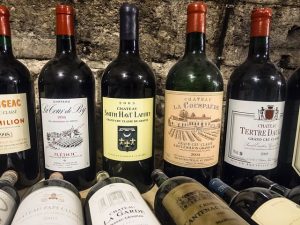 The U.S. Attorney's Office for the District of Maryland recently announced that the owner of a high-end wine storage facility has pled guilty for orchestrating a multi year fraud scheme. The 54-year old Anne Arundel County man was the sole owner and operator of a company that provided storage and delivery service for rare and expensive bottles of wine. He charged a monthly fee for these services, but instead found it more lucrative to sell the bottles to unsuspecting third parties. According to the plea in 2013 the man began offering his customer's wine bottles for sale to retailers and brokers across the country, including America's wine capital of Napa, California. He used email and fax to communicate with potential buyers about his "inventory" and provided all the relevant information about the bottles and the asking price. After coming to a sales agreement the man packed and shipped the bottles to the buyer from his facility in Glen Burnie, and then accepted payment via check or wire transfer to his bank account. The proceeds were not shared with, or even disclosed to the rightful owners of the wine.
The scheme lasted for four years until 2017 and began to resemble a makeshift Ponzi, as all the while the defendant was collecting storage fees and accepting new bottles of wine from his current clients. Eventually the owners started asking questions, and the scheme came crashing down like schemes generally do. All told, the defendant stole between $550,000 and $1.5 million worth of his customer's wine, most of who were private collectors and commercial establishments such as upscale restaurants. Not that it really factored into the case, but the defendant did not posses a license to sell wine within the State of Maryland or any other state, so he wasn't actually a wine dealer (or a legitimate one at least). The actions described by the government in the guilty plea could have resulted in a number of theft and fraud related charges, but the lawyers decided on a plea to wire fraud. It appears that the government and the defense have agreed to a sentence of 18 months in prison, which will be imposed at a sentencing hearing down the road in the Baltimore federal courthouse.
Fact patterns such as this present an interesting discussion on theft laws, and since this is a Maryland criminal law Blog we'll stick to offering commentary on that. In Maryland you don't actually have to steal something to be charged with theft. Obtaining goods such as wine under false pretenses or with the intent to permanently or temporarily deprive the owner of the goods is sufficient for a theft charge. Even if the wine guy had every intention of restoring his customer's collections he legally committed a theft the second he put them up for sale. There is no separate charge for obtaining goods by deception, as it falls under the general Maryland theft provision that differentiates based on value of the goods. One of the exceptions is failure to return a rental vehicle, which is a separate charge that carries a maximum penalty of 1 year in jail. Theft less than $100 is a misdemeanor punishable by up to 90 days in jail. Theft less than $1,500 but more than $100 is also a misdemeanor but carries a 6-month maximum. Anything over $1,500 is classified as a felony, with maximum penalties ranging from 5 years to 20 years for theft over $100,000.
Another important provision of the Maryland theft law to understand is that you can be charged for taking something that someone has lost or delivered by mistake. This issue recently came up in a case where a man accepted delivery of a larger television than he had ordered. The law basically requires a person to take reasonable measures to restore the property to the rightful owner, so finders keepers is not how the law works in Maryland. We have seen cases where people pick up laptops or phones and then go to the pawn shop to sell the items, only to receive a call from a detective days later. If you find an expensive item you can't just keep it or sell it. Anyone intending to sell an item to a pawn shop should be aware that police keep records of all lost and stolen goods of value, and these records will bring police to investigate. If you or someone you know has been charged with theft anywhere in Maryland contact criminal attorney Benjamin Herbst for a free consultation anytime at 410-207-2598. Benjamin specializes in employee theft cases and cases involving cars such as motor vehicle theft and failure to return a rental vehicle. He accepts cases in all jurisdictions including federal court, and offers flexible payment plans.
Resources
Owner Of High-End Wine Storage Facility Pleads Guilty In Federal Court To Embezzling From His Customers, justice.gov.