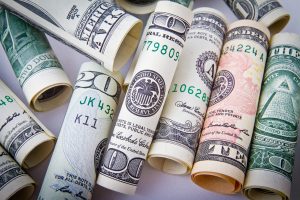 This week at the Greenbelt federal courthouse, a Prince George's County man was sentenced 4 years in prison for a bank robbery that occurred back in 2019.  According to the guilty plea the defendant entered a bank in Oxon Hill, Maryland during normal business hours and demanded his money.  When the bank teller told the defendant that he would need to provide his identification and debit card in order to withdraw money, the man apparently became upset.  He then demanded money again from the teller, but this time he explained he was committing a robbery and that he would shoot everyone in the bank.  The bank teller was obviously shaken, but followed her training and complied with the man's request.  She handed over $202 in cash and the man fled the scene.  Unbeknownst to the defendant, the stack of cash contained a GPS tracking device that was likely activated automatically upon being removed from the drawer.
Law enforcement followed the GPS signal and located the defendant a short time later at a fast food restaurant in the same shopping center as the bank.  The defendant was arrested and police recovered the $202 in cash on his person.  Police also reviewed surveillance footage from inside the restaurant that showed the man discarding an object in a trash can.  This object turned out to be the GPS tracking device, which police recovered and entered into evidence.  The robbery did not occur on federal property, and the Prince George's County Police was likely the agency that apprehended the defendant, but nonetheless he was charged under the federal bank robbery statute.  18 U.S. Code §2113 was established to give the federal government jurisdiction to prosecute robbery from any bank, credit union or savings and loan association in the United States that operates under U.S. law, is a member of the Federal Reserve or is insured by the FDIC.  This basically includes any bank, whether foreign or domestic, that operates in the U.S.  The federal bank robbery statute also covers theft of anything over $1,000, and burglary or other felony committed against the bank.  Bank robbery is a felony with a 20-year maximum penalty, which becomes 25 years if the defendant commits an assault or uses a dangerous weapon or device.  Theft of more than $1,000 in currency or other items from a bank carries a 10-year maximum penalty.
Typically, when we think of bank robbery we think of a masked person pointing a gun at the teller, but a large number of bank robberies are committed without weapons.  Simply relaying a verbal threat to a teller or even passing a threatening note with a demand for money is enough of a show of force to trigger robbery charges.  This is the same under both federal law and the laws of Maryland.  The government is never required to prove the defendant was able to carry out any of the threats in a robbery case.  All that is required is for the defendant to place a victim in fear of his or her safety.  If a weapon is brandished or used the defendant will face a significantly higher punishment under the sentencing guidelines, and if a firearm is present mandatory minimum sentences will be in play under federal law and Maryland state law.
The Blog will continue to follow bank robbery cases throughout Maryland and Florida, and will post additional articles concerning the interplay between state and federal law.  If you have a question about a bank robbery or larceny case contact criminal defense lawyer Benjamin Herbst anytime for a free consultation at 410-207-2598 or at 954-543-0305 in Florida.  Benjamin specializes in robbery, armed robbery, burglary and theft cases, and is available 7 days a week to discuss what defenses may be available in your case.
Resources
Prince George's County Man Sentenced to Four Years in Federal Prison for 2019 Oxon Hill Bank Robbery, justice.gov.