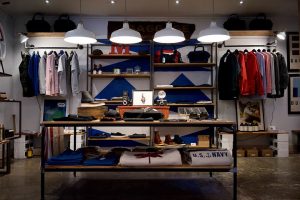 Bel Air Police have arrested two suspects in connection with a series of retail thefts spanning multiple states, and one remains in custody at the Harford County Detention Center.  The incident occurred last week at a Dick's Sporting Goods location in Harford County where the two suspects allegedly took several items from the store and fled the scene in a silver Ford Fusion.  Police were called to investigate and then canvassed the area looking for the suspected vehicle.  During their search for the suspects, police came across a car matching the description in the Harford Mall parking lot, and waited to see if anyone appeared.  While police maintained surveillance on the Ford Fusion, other officers apprehended one of the suspects walking in the area.  The second suspect was then arrested as she headed toward the vehicle, and officers later determined that both were involved in another retail theft inside of the mall.  Police sought and received a search warrant for the Ford Fusion, and upon execution of that warrant discovered over $2,000 worth of stolen apparel from various retail stores.
The two suspects were arrested and charged with misdemeanor theft and theft scheme, and taken before the District Court Commissioner for a determination of their release conditions.  One of the defendants, a 24-year old female from Baltimore City, was released on an unsecured personal bond.  This means the defendant will not have to put any money up unless she fails to show up for her trial date, which has not been scheduled as of this time. The other defendant, a 25-year old female from Odenton in Anne Arundel County was originally granted release on a $5,000 bail, but then held without bail by a District Court Judge the next day.  Normally, and especially during COVID-19, defendants are not held without bail for theft charges, but this defendant apparently had an active arrest warrant out of Virginia for theft.  The judge was likely concerned that either she was a flight risk or that she would not be returned to court in time for her December 8, 2020 trial date if she was sent to Virginia.  Defendants who are incarcerated are generally scheduled for District Court trial within 30-45 days, while defendants who are on the street are scheduled much further out from the date of their arrest.
We will continue to follow this case, and may post a follow-up article if anything interesting occurs in the either trial.  The incarcerated defendant may end up taking a plea in December, as postponing the case or requesting a jury trial could result in a major delay, and continued incarceration.  Unlike employee theft cases, misdemeanor retail theft cases of this magnitude generally do not result in a jail sentence unless the defendant has a criminal record.  In this case the incarcerated defendant has a relatively lengthy criminal history, including prior convictions for theft out of Baltimore County and malicious destruction of property out of Anne Arundel County.  These prior convictions combined with the active warrant out of Virginia could result in a much harsher sentence should she be found guilty.  The District Court for Harford County has been known over the years to hand out harsher sentences than neighboring jurisdictions such as Baltimore County, but every case has its own story and every defendant a unique background.  Benjamin Herbst is a Maryland and Florida criminal defense lawyer who specializes in theft and theft scheme cases in all jurisdictions including Harford County.  Benjamin has successfully defended hundreds of clients charged with employee theft, retail theft, embezzlement, fraud and other white-collar crimes.  He also handles probation violations and drug, gun and violent criminal cases such as robbery, attempted murder and aggravated assault.  Call his Maryland office at 410-207-2598 or his Florida office at 954-543-0305.