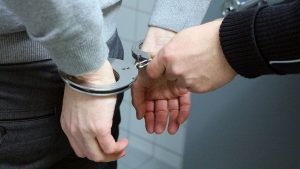 Tens of thousands of people travel along Route 50 from Annapolis to Ocean City each summer, and few complete their journey without seeing a Maryland State Trooper parked in the median, or actively writing a traffic citation on the shoulder.  The state police have a highly visible presence on all major highways and interstates in Maryland, but it is a common misconception that troopers operate exclusively in a highway patrol capacity.  Highway patrol is a major function of the Maryland State Police; nearly 75 percent of all troopers are assigned to the Field Operations Bureau that patrols the state's highways, but that still leaves a few hundred troopers who are assigned to other divisions of the agency.  The Criminal Investigative Bureau or CIB is another major branch of the MSP, and is responsible for investigating violent crimes and large-scale drug violations that occur across the state.  The CIB works in cooperation with county and local law enforcement from all corners of the state, and in this past week assisted in arresting suspects from Ocean City to Allegany County.
State police troopers from the CIB began last week by arresting a 36-year old mand from Frostburg on charges of second-degree assault and animal cruelty.  The Western Maryland man was released by a district court commissioner on a $2,500 unsecured personal bond, which he will only have to pay if he fails to appear in court.  The next day the Firearms Enforcement Unit of the CIB arrested a 27-year old Baltimore man on gun charges that included possession of a firearm by a convicted felon.  Another day passed and troopers from the CIB arrested a in Baltimore County man for possession of a firearm by a disqualified individual.  The state police used information from the Ocean City Police Department to make this arrest.  Troopers went on the arrest two more individuals on various charges this same day.  The first was arrested on an open arrest warrant in Baltimore City for making a false statement to an officer, and the second suspect was arrested in Cumberland on an arrest warrant for electronic harassment.
While none of these arrests will generate major news headlines on the traditional media outlets, they do serve as a reminder that state police troopers are actively investigating and pursuing suspects across Maryland.  Regular readers of the Blog are already aware that the governor has made state police resources available to fight violent crime and gun crime in Baltimore City, but gun crimes are a major priority for the MSP no matter where they occur.  Maryland has some of the toughest gun laws in the region, and law enforcement officers are not sympathetic to those who are unaware of just how strict the laws are.  State troopers, like all county and local police officers, will arrest any person who is illegally carrying or transporting a firearm without a concealed carry permit.  These permits are extremely difficult to obtain, and out-of-state permits are not valid in Maryland.  Anyone who owns a firearm should be extremely careful about taking their firearm outside of their home, and should regularly keep updated on all the applicable state gun laws.
Benjamin Herbst is a Maryland criminal defense lawyer who specializes in gun crimes such as possession of a firearm by a convicted felon and handgun in vehicle.  He also has extensive experience defending second-degree assault, animal cruelty and false statement charges.  Benjamin represents clients in all jurisdictions including the Eastern Shore, Anne Arundel County, Baltimore County and City and Western Maryland.  He is available 7 days a week for a free consultation at 410-207-2598.  Benjamin is licensed to practice in Florida and in federal court.
Resources
Maryland State Police Work With Allied Agencies To Make Several Arrests To Combat Violent Crime From Cumberland To Ocean City, news.maryland.gov.