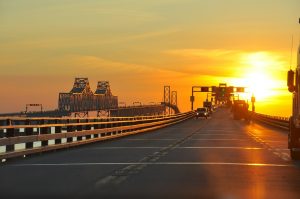 Holiday weekends motivate thousands to take to the highways to vacation or visit with friends and family. And in Maryland when the weather is warm, a large majority of these motorists travel between the Baltimore and D.C. metro areas and the Eastern Shore. Some stop in the smaller cities and towns along the way, but most end up in Ocean City or the Delaware beaches. Unfortunately there's only one major thoroughfare between these two destinations, and the traffic can be a nightmare if you leave at the wrong time. Using nightmare to describe traffic might be a figure of speech, as Route 50 gridlock has become just part of the beachgoer experience. The real nightmares out on the highways are the serious car, motorcycle and truck accidents that injure or even claim the lives of those in search of a little sun and sand before heading back to work. Each year the Maryland State Police has made it a priority to do everything in their power to mitigate the increased risk of serious auto accidents that accompany the spring and summer holidays, and this past Labor Day weekend was no different.
In a recent press release State Police took credit for reducing crashes and keeping the public safe, thanks to various initiatives to post more troopers along the holiday driving routes. Initiatives such as Operation Showboat sent troopers posted in the Eastern Shore and the southern part of the state to specifically patrol the Route 50 stretch between the Chesapeake Bay Bridge and Ocean City. These troopers were targeting intoxicated drivers and anyone appearing to be operating in an unsafe manner. All told, MSP reported their troopers conducted over 9,000 traffic stops over the holiday week, and issued over 6,000 citations. There were 119 drunk driving arrests, including 10 arrested over the weekend by the much-publicized S.P.I.D.R.E team, a state police task force dedicated solely toward DUI and DWI enforcement. This task force took to the highways of Montgomery County, which has often been labeled as a drunk driving hotbed by law enforcement.
In addition to the thousands of citations and the 100 plus DUI arrests, the Labor Day traffic stops also produced 64 arrests unrelated to impaired driving. These unfortunate holiday motorists were probably pulled over for some minor traffic infraction (or nothing at all) and then arrested after a search yielded drugs or other contraband such as firearms. Police have made it a common practice to conduct traffic stops as a pretext to some other sort of investigation, and these stops have been ruled constitutional by the Supreme Court as long as there was reasonable suspicion to conduct the traffic stop in the first place. Along with the 64 arrests for new crimes, troopers also arrested 75 people who had outstanding arrest warrants. Law enforcement officers that locate wanted individuals do not even need probable cause to stop or detain, as the courts have held that you essentially lose many of your Fourth Amendment rights if you have a valid arrest warrant. This is true even if the arrest warrant was issued in error or never issued at all, as the only factor that matters is whether the officer reasonably believed you had a valid arrest warrant at the time of the seizure. Moral of this story is that if you have an arrest warrant or are traveling with a currently illegal substance such as marijuana, avoiding the main beach routes over the holidays might be in your best interest.
Benjamin Herbst is a DUI and DWI lawyer that handles all traffic citations in Maryland state and federal courts, and specializes in representing clients out of state such as Delaware, Pennsylvania and Virginia residents.  He has represented clients in every Eastern Shore jurisdiction from Ocean City to Queen Anne's County.  Contact Benjamin anytime for a free consultation about your citation.
Resources
Maryland State Troopers Yielded Positive Results This Labor Day Weekend, news.maryland.gov.