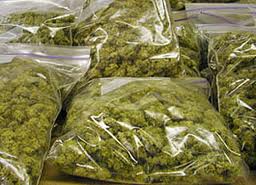 Six suspects have been charged with numerous drug crimes after local and federal police officers busted a large-scale marijuana distribution ring operating out of multiple quiet suburban neighborhoods. While the operation was based Montgomery County, where the charges have been filed, the six young men allegedly operated out of numerous storehouses for their product in other areas such as Baltimore County and even Virginia. According to police, the pot would be shipped in from California or Oregon and delivered to various homes in nondescript packages by the U.S. Postal Service. A network of dealers would then spread the product around, sometimes using Uber as their method of transportation. Montgomery County Police and the Postal Police worked together on the investigation, which yielded a seizure of upwards of 85 pounds of pot worth over $300,000 on the street. Although multiple people have been charged, investigators believe they have singled out the mastermind of the operation, a 22 year-old man who lives in Hagerstown.
The young man from Washington County was recently indicted on two felony drug trafficking counts, including the rarely used drug kingpin statute. This law was created to deter drug trafficking in Maryland, although it would be hard to argue it has been successful. The drug kingpin law targets those defendants that are alleged to be the organizers, financers or managers of a large conspiracy to bring controlled substances into the state for distribution. The penalties upon conviction are extremely harsh, and can in fact carry a stiffer sentence than violent crimes such as armed robbery and even second-degree murder. A drug kingpin defendant faces up to forty years in prison and an exorbitant one million dollar fine, but the real kicker is the 20-year minimum mandatory sentence that must be imposed upon conviction, and is not parole eligible. To put it into perspective, a person convicted of robbery with a firearm will spend 5 years in prison without being eligible for parole, while a typical second-degree murder convict could expect between 15 and 40 years of parole eligible incarceration. But under Maryland law a non-violent large-scale marijuana dealer faces an obscene two decades in prison, which unfortunately was not modified in the Justice Reinvestment Act that goes into effect this year.
Despite the fact that the young marijuana mogul faces an uphill battle in court, he will thankfully not likely have to contend with a 20-year minimum sentence. The alleged Hagerstown drug runner was also charged with importation of a controlled dangerous substance or CDS under Maryland criminal law 5-614. This statute covers trafficking large amounts of all types of drugs including marijuana, cocaine and heroin. Under this law, transporting between 5 and 45 kilograms of pot falls under the section with a 10-year maximum punishment. While it is not a guarantee, the state will probably use the kingpin statute as a deterrent to having prove the case at what will undoubtedly be a complex and time consuming trial. They will probably offer a plea to the transportation statute, which carries twice the prison exposure as the standard marijuana distribution/ possession with intent law, and does not carry a minimum mandatory sentence. This is clearly just an educated guess, but it would seem like reasonable plea offer if after going over the discovery it's clear that the state can actually prove its case. The Blog will follow this case as is progresses through the circuit court in Rockville, and we may most a follow up article if necessary.
Benjamin Herbst is a Maryland marijuana lawyer who handles trafficking, distribution and drug kingpin cases for all types of controlled substances in Montgomery County and every other state and federal jurisdiction.  Contact Benjamin for a free consultation anytime at 410-207-2598.
Resources
Police bust 'drug kingpin' operating in Montgomery, Fairfax, Baltimore Counties, wjla.com.