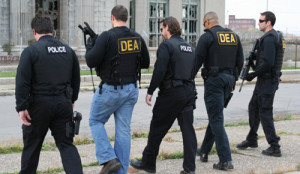 Anne Arundel County Police recently executed the largest cocaine bust in their history, and now ten adults have been indicted in a drug conspiracy that spanned multiple jurisdictions over the past year.  The investigation picked up steam last summer after multiple alleged drug traffickers were identified by law enforcement.  Police observed dozens of controlled drug transactions, likely through the use of confidential informants, and were also successful in obtaining a warrant for a wiretap.  This information led to the execution of search warrants in Glen Burnie, Severn and Baltimore City that yielded cocaine, heroin, fentanyl, MDMA, marijuana and 21 handguns.  Two of the handguns were reported as stolen and one of the guns was a homemade ghost gun.  Most of the search warrants were executed back in the Summer and Fall of 2022, but the investigation into the source of supply continued until the aforementioned cocaine bust.
Working alongside the DEA, Anne Arundel County officers turned their focus to one individual they believed was supplying the mid-level dealers.  This suspect, a 42-year-old man from Glen Burnie, was allegedly importing large amounts of CDS into Maryland through his shipping business.  Law enforcement ultimately learned that the suspect was hiding illegal drugs within automobiles that were shipped to the state on car carriers.  Back in April police intercepted a vehicle they had probable cause to believe contained CDS, and after searching it found 17 kilograms of cocaine sewn into the seat cushions.  The defendant, who is currently on probation for a drug offense, was arrested on the same day of the drug bust and charged with various felonies by way of statement of charges.  The other defendants were not charged until the indictment became unsealed in June.  It appears that most were issued summonses to appear in court, while the main defendant is still being held at the Anne Arundel County Detention Center.
The main defendant has been charged with a violation of the Maryland Drug Kingpin law, which provides significantly higher penalties for organizers, supervisors, financers or managers who participate in a conspiracy to manufacture, distribute or transport CDS in Maryland.  This offense, criminal law section 5-613, carries a 40-year maximum penalty and a $1,000,000 fine.  The real bite of the law comes in the form of a 20-year mandatory sentence that cannot be suspended.  This mandatory minimum is only surpassed by the mandatory life sentence associated with first degree murder.  The alleged organizer was also charged with CDS importation, which carries a maximum penalty of 25 years in prison under criminal law section 5-614 and with CDS possession of a large amount.  Large amount possession still carries a 5-year mandatory sentence for those convicted of possessing more than 448 grams of cocaine, 50 pounds of marijuana, 28 grams of heroin or 5 grams of fentanyl.
All defendants have been charged with conspiracy to distribute a controlled substance.  Conspiracy charges are considered common law misdemeanors in Maryland, but the maximum penalty for this type of conspiracy is the same 20 years that felony distribution of narcotics carries.  Some defendants are also facing mandatory prison type for possession of a firearm in a drug trafficking crime and possession of a firearm by a convicted felon.  It does not appear that any of the ten defendants have been accused of committing acts of violence.  The cases are divided between the Baltimore City and Anne Arundel County Circuit Courts, and many of the defendants are set for a status conference toward the end of August.  The Maryland Attorney General's Office is prosecuting the cases, as they do in in most state prosecutions involving wiretaps and multijurisdictional conspiracies.
The Blog will continue to follow this case and may post an article at the end of summer updating the progress of the cases.  If you have a question about a criminal matter contact Maryland CDS lawyer Benjamin Herbst anytime at 410-207-2598.  Benjamin has successfully handled dozens of drug crimes and gun charges in Baltimore City, Anne Arundel County and all other state and federal jurisdictions within Maryland.  He specializes in drug charges involving a large amount of CDS, possession with intent to distribute, importation and possession of a firearm in a drug trafficking crime and takes on the state in its most serious drug trafficking crimes.  Benjamin is extremely well versed in the state's tough gun laws that routinely catch out-of-state visitors and those with a minor criminal record by surprise, and is also an experienced probation violation lawyer.  Contact Benjamin today to learn which defenses may be available in your Maryland or Florida criminal case.
Resources: