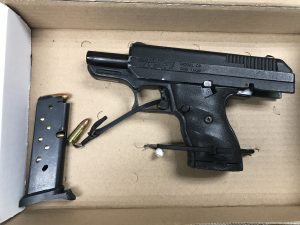 Last week two Maryland men in their late 20s appeared in federal court on gun charges, and both will end up serving several years in prison.  The first case was heard last Thursday in the Greenbelt federal courthouse, where a 29-year-old man from Suitland pled guilty to two counts of felon in possession of a firearm.  The Prince George's County man had been convicted of attempted distribution of cocaine in Washington D.C. back in 2014, which made him permanently ineligible to possess a firearm in all U.S. jurisdictions.  Unfortunately for the defendant, law enforcement subsequently found him in possession of a firearm on at least two recent occasions.  In June of 2020 Prince George's County Police conducted a search of the defendant's home pursuant to a warrant, and recovered a .40 caliber handgun, ammunition and CDS including buprenorphine and naloxone.  These prescription drugs are used to treat heroin and other opioid addictions, but can be used as illicit substances.  After being advised of his Miranda rights the defendant admitted that the firearm was in his possession.
The defendant was charged with possession with intent to distribute, and offenses related to false prescriptions.  He was also charged with possession of a firearm by a convicted felon, illegal possession of a regulated firearm and possession not marijuana. The possession with intent (PWID) charge was of the variety that comes with a 5-year maximum penalty rather than the 20-year penalty that narcotics cases carry.  Despite the severity of the charges, the defendant was released on bond one day after his arrest at a district court bail review.  The defendant's lack of prior violent criminal history likely played a role in his release, as did his ties to Prince George's County.  However, less than 4 months after his release he was arrested again on gun charges.  This time the arrest took place in Washington D.C., and was the result of a traffic stop that turned into a foot chase.  After the defendant was pulled over for running a stop sign, police discovered that he had an active Maryland circuit court arrest warrant stemming from the PG County gun and drug case.  The U.S. Attorney's press release does not specify why the defendant had the warrant, but it was likely for violating a condition of his pre-trial release or for missing court.  After the defendant was confronted about the warrant, he took off on foot in attempt to fell from police.  Officers then caught the defendant and located a loaded .45 caliber handgun in his jacket pocket.  The feds stepped in not long after his arrest on the D.C. case, and charged both cases together in the Greenbelt federal court.  The PG circuit court case was later dismissed along with the D.C. case, and now the defendant faces up to 10-years in prison on each count when he is sentenced in November of this year.
The second case occurred just one day later in the Baltimore City federal courthouse, where a 28-year-old Baltimore man was sentenced to 57 months in federal prison, followed by 3 years of supervised release for one count of felon in possession of a firearm.  This defendant was originally arrested on state charges after being arrested at the end of 2019.  According to the plea, Baltimore Police officers observed the defendant conduct a drug transaction and then gave chase.  The defendant fled on his bicycle and eventually on foot, but officers caught up with him and found a loaded 9 mm handgun as well as cocaine and fentanyl packaged for sale.  He was charged with possession of a firearm in a drug trafficking crime, illegal possession of a firearm, PWID narcotics and other offenses, though the state case was dismissed after the feds decided to prosecute.  The defendant was prohibited from possessing guns due to felony convictions from 2015 that involved narcotics distribution.
Both cases are further examples of the feds continuing involvement with Baltimore and D.C. Metro area gun crimes.  It's no surprise that the feds became involved with the first case, as it consisted of criminal activity that occurred in two separate jurisdictions.  On the other hand, the Baltimore case was just a straight forward street level gun and drug possession arrest.  This is the type of case that traditionally would have been prosecuted by the State's Attorney's Office, but times have changed.  The ATF and other federal agencies are pounding the pavement along with local police, and when guns or heroin/fentanyl are involved there's a good chance the case ends up in federal court.
The Blog will continue to follow these types of cases and will continue to post on firearm prosecutions and changes to the gun laws in Maryland and Florida.  Benjamin Herbst is a criminal defense lawyer who specializes in firearms offenses and drug crimes.  He has successfully defended hundreds of clients charged with illegal possession of a firearm, carrying a concealed firearm, narcotics distribution, marijuana manufacturing and distribution and all other criminal offenses.  Benjamin recently earned a jury trial acquittal for a client who was facing a minimum of five years in prison for a Baltimore City charge of firearm possession by a convicted felon, and is ready to fight for you or your loved one.  Call Benjamin at 410-207-2598 or 954-543-0305 for a free consultation 7 days a week.
Resources:
U.S Attorney's Office news, justice.gov