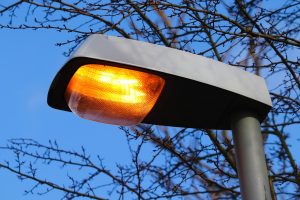 Two suspects have been charged after months of investigation into a series of copper wire thefts from light poles along the Baltimore Beltway.  Since April law enforcement has been investigating as many as four separate incidents where copper wire was forcibly removed from the state-owned poles lining the travel lanes of 695.  On the night the defendants were arrested, troopers responded to the Falls Road exit in the Lutherville-Timonium area of Baltimore County at around 4 in the morning.  It appears that the pair were caught in the act and eventually taken into custody without incident.  Following their arrest, the criminal investigations division of MSP along with help from the State Highway Administration connected the defendants to the three other thefts of similar nature.  According to state officials, the four thefts caused approximately $66k in damage to the existing poles.  As a result of the value of the damage and the cost of replacement, both defendants are facing multiple felony theft charges, as well as malicious destruction of property over $1,000.  The defendants are set to appear in the Essex District Court on September 3 for their trials, but there is a good chance this date could be pushed back, or that the cases will be moved to the Circuit Court for Baltimore County.
This recent arrest was hardly the first run in with the law for either defendant.  In fact, the pair are co-defendants in a pending theft with similar facts in Howard County.  One of the defendants actually has 4 open cases in multiple jurisdictions including Anne Arundel County, Harford County, Howard County and this Baltimore County case.  It also looks like the 45-year old Baltimore City man is facing a violation of probation for a Glen Burnie drug possession case.  The defendants look to have avoided the most serious theft charge of theft over $100k in this particular case, but still face up to 10 years in prison for each count of theft more than $25k.  They also could be looking at additional time for malicious destruction of property related to the damage caused to the light posts.  Both also face theft scheme charges for participating in multiple criminal acts, and will likely have thousands of dollars in restitution payments should they be found guilty.  One of the defendants is out of custody, while the other remains in the Baltimore County Detention Center in Towson on a no bail hold.  The judge likely considered this defendant was both a flight risk and a danger to the community based on his prior record and multiple pending charges.
The Blog will continue to follow this case and may post a follow up article in the future if anything newsworthy occurs in the case.  Both defendants face an uphill battle in this case based on their prior criminal record, and if convicted, the judge could be especially harsh considering the crimes were committed during the COVID-19 pandemic.  Benjamin Herbst is a Maryland criminal defense lawyer who specializes in theft charges in state and federal court.  He also handles in malicious destruction of property cases, and has successfully defended numerous clients in Baltimore County, Howard County, Harford County, Anne Arundel County and all other Maryland jurisdictions.  If you have a question about a criminal case feel free to call Benjamin anytime at 410-207-2598 for a no obligation consultation.  It is too much of a gamble to walk into criminal court without an experienced lawyer by your side, and there is no risk in speaking with Benjamin to see what defenses may be available in your case.
Resources
Two men arrested for stealing $400K worth of copper wire from highway light poles, foxbaltimore.com.