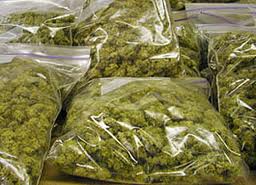 Police in a wealthy suburb outside of Philadelphia recently arrested a 24-year old Maryland woman for allegedly attempting to deliver 100 pounds of marijuana to buyers waiting in a parking garage.  The marijuana was described by police as high grade, and apparently worth as much as $200,000 on the street.  This bust appeared to be the result of a long-term investigation into a high-volume drug trafficking ring between Maryland and Philadelphia.  Law enforcement officers were tipped off about the delivery prior to the woman arriving at the scene of the deal, and began to follow her as she entered the parking garage.  According to reports she was arrested before completing the deal, and a search incident to arrest of her vehicle revealed three duffel bags with numerous vacuum sealed bags of pot.  Police did not immediately release any information about the other two individuals allegedly involved in the failed drug deal, which could mean they were either undercover police officers or working with the government.  At the time of the press release the defendant was still being held in jail on a $150,000 cash bail on felony charges of possession with intent to distribute marijuana.
Normally the Blog does not post about criminal incidents that occur outside of the state of Maryland, but this bust is of not for two reasons.  First, the woman is a resident of Anne Arundel County, which has a long history of high-volume drug busts.  There are numerous highways running through Anne Arundel County and many a drug dealer has been busted after a highway traffic stop.  This defendant was from Edgewater, which is right near Highway 50 and Interstate 97.  The second reason the bust is of note is that the defendant was reportedly trying to use the Covid-19 outbreak as an opportunity to traffic a large amount of marijuana.  The press releases did not say specifically how the defendant was trying to use Covid-19 for cover, but the logic does not add up.  As we posted a few weeks back, overall crime has been down virtually everywhere and police officers have more ability to focus on suspicious activity in their jurisdictions.  While we do not know for sure that the car was registered in Maryland, a car with an out of state license plate that is traveling to meet another car in a parking garage will always raise suspicion.  During this pandemic the suspicion will be exponentially higher, as out-of-state travel has been greatly reduced.
The Blog will continue to follow this case and may post a follow up article if anything newsworthy develops.  This defendant does not appear to have any other pending criminal charges (at least in Maryland), so there is a chance she will be able to work out a favorable outcome in her case.  As always, the priorities for any criminal defense lawyer should be keeping the client out of jail and keeping the client's record as clean as possible.  While Pennsylvania is typically considered a stricter state for most crimes, had this arrest occurred in Maryland the defendant would have faced drug trafficking charges pursuant to the volume dealer law.  Under the volume dealer statute any defendant who is possesses, manufactures or distributes more than 50 pounds of marijuana faces a 5-year mandatory prison sentence that cannot be suspended by the trial judge.  In addition, there is the possibility of a $100,000 fine and a felony conviction.  For any questions contact Maryland drug crimes lawyer Benjamin Herbst anytime at 410-207-2598.  Benjamin defends clients in all criminal charges and is available 7 days a week to offer a free consultation.   He accepts cases in all Maryland jurisdictions and is an experienced federal criminal defense lawyer who handles felony offenses and federal citations in all federal courts throughout the state.
Resources
Maryland woman arrested in King of Prussia…,times herald.com.