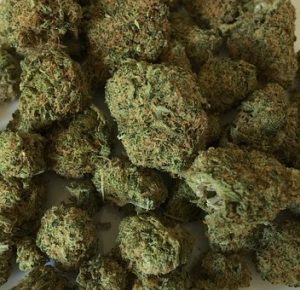 The Maryland State Police recently announced one of the largest highway pot busts in years after two young men from Philadelphia were caught driving with over 900 pounds of marijuana. The bust began as a routine traffic stop of a U-Haul van for an alleged unsafe lane change on the northbound side of I95 near Elkton. As the trooper was conducting the traffic stop he apparently noticed suspicious signs of criminal activity, and then brought out his drug sniffing K9 to assist. The dog alerted the trooper to the presence of a controlled substance, which led to a search of the van. Considering the amount of pot that was recovered it probably didn't take long for the trooper to locate the stash and then arrest the two unlucky travelers. As it stands now, both occupants of the van are charged with four separate criminal charges, three of which are felonies. To add insult to injury, the driver was also cited for a $90 moving violation for his alleged unsafe lane change.
The two men are charged with possession of marijuana, but this is undoubtedly the least of their troubles. Each also faces possession with intent to distribute, which carries a maximum penalty of 5 years in prison, and one count of large amount controlled dangerous substance possession. Upon conviction, this charge has a minimum sentence of 5 years, and no portion of the sentence can be suspended. While the Justice Reinvestment Act will soon phase out minimum mandatory sentences for many drug crimes, the 5-year large amount sentence will remain law. This statute includes almost every street drug, including cocaine, meth, and opioids such as heroin and oxycodone. The amount required for a "large amount" charge varies by drug, but for marijuana all that is required is 50 pounds or more.
The fourth and final charge that the two young men are facing falls under a seldom used law that makes it illegal to import certain controlled substances into the state. This offense makes it a felony punishable by up to 25 years in prison to bring large amounts of drugs into Maryland. The cutoff for marijuana is oddly 45 kilograms, which is about twice the amount required under the large amount statute. Importing between 5 and 45 kilograms of pot triggers a lower maximum jail sentence of ten years. This offense is relatively rare for state court because multi state drug trafficking cases are often handled by federal law enforcement such as the DEA. In this specific case though there was no ongoing investigation, but rather the trooper basically just stumbled upon this mega stash of pot. This offense can also create issues for the prosecution, as it is an essential element of the charge to actually prove the defendants brought drugs in from beyond the border. In this case the state will need to prove more than just the fact that the defendants are from Pennsylvania, or that the van was rented in another state.
The Blog will follow these two cases and may post a follow up article in the future. The 23-year old defendants are set for preliminary hearings on July 20 at the Cecil County District Court, but these cases will almost certainly be transferred to circuit court by way of indictment or felony information. Benjamin Herbst is a Baltimore based criminal defense lawyer who handles cases in every state and federal jurisdiction, including drug importation and possession with intent to deliver.
Resources
2 Philadelphia men arrested after police recover over 900 lbs. of marijuana in U-Haul van, foxbaltimore.com.