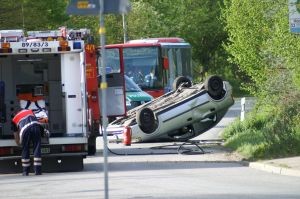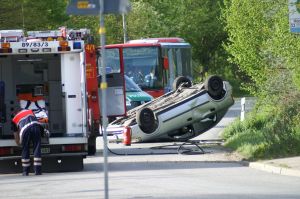 Maryland has numerous laws governing the responsibilities of drivers who are involved in accidents, and understanding these laws can mean the difference between a simple traffic ticket and a serious criminal charge. The main requirement under Maryland law is that all drivers involved in an accident have a duty to remain at the scene, and drivers who are forced to move their vehicles after the accident due to safety reasons must immediately return. Drivers are only allowed to leave the scene after they have complied with section 20-104. This section actually requires drivers to render reasonable assistance to any person injured in the accident, which may include arranging for transportation to the hospital. The requirement to render aid is typically satisfied by calling 911 and waiting for emergency vehicles to arrive. Drivers are also required to give certain information including their name, address and registration of the vehicle they were driving. If feasible a driver may also be required to furnish his or her driver's license to any person injured in the accident or any owner of property that was damaged in the accident. If nobody is on the scene of the accident other than the one driver, that driver has a duty to report the accident to the nearest authorized police authority. Failure to comply with these requirements is actually a jailable offense under the duty to give information and render aid statute. A driver who does not comply with these requirements may be charged with a number of different offenses, with some even being felony criminal charges.
Leaving the scene of an accident that has only resulted in property damage is still a crime under 20-103 of the Maryland transportation article. If you knock down and sign, clip and damage a concrete barrier or guardrail or give an adjacent car a little love tap you are required to remain on the scene until completing the requirements of 20-104. Any driver that leaves the scene may be prosecuted for an offense that carries up to 60 days in jail and a $500 fine. This offense also carries 8 points upon conviction, which could result in a notice of suspension from the MVA. There are defenses to cases for leaving the scene of an accident, so if you feel you may be charged it is important to contact a lawyer first. Law enforcement will still have to identify you as the driver, as a license plate number is typically not enough to establish that a particular person was driving when the accident occurred.
Leaving the scene of an accident involving injury is treated harshly under Maryland law, and enhanced punishment can occur even if there was not a serious injury. The penalty for leaving the scene of an accident involving injury is up to 1 year in jail and a $3,000 fine. Leaving the scene of an accident involving a death carries a 5-year maximum penalty and a $5,000 fine. These offenses both carry 12 points upon conviction, which will result in driver's license revocation proceedings being initiated by the MVA. If the driver knew or should have known the accident would cause serious bodily injury and left the scene the state may charge the driver with a 5-year felony. If the driver knew or should have known the accident would cause death and a death occurred the maximum penalty becomes 10 years.
All of these charges could be avoided if a driver simply remains at the scene and complies with the information and aid requirements of the law. The problem is that car accidents are often highly stressful incidents, and people act on impulse. Sometimes the driver is operating on a suspended license or does not have a license at all and is afraid of being arrested. There are other times when drivers are intoxicated and choose to leave the scene rather than stay and face arrest. Either way, keep in mind that it is not out of the question to correct the wrong by contacting law enforcement hours or even days after the incident, but definitely do not do this without a lawyer. There is a fine line between mitigating your case and giving law enforcement the evidence it needs to prosecute you, so if you are unsure feel free to give us a call at 410-207-2598. Benjamin Herbst is an experienced Maryland hit and run lawyer that handles all traffic citations including leaving the scene of an accident, DUI and driving on a suspended license. He is available 7 days a week to offer a free consultation on any criminal or traffic issue, and handles cases in all state and federal courts including Baltimore, Prince George's County, Montgomery County, Frederick, Annapolis, Salisbury, Ocean City and Western Maryland.