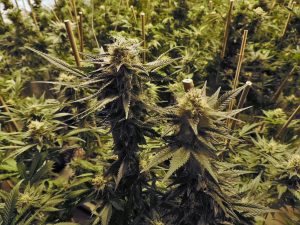 Medical marijuana grow facilities across Maryland have been up and running for weeks, yet as of now these growers are still not able to sell their product to the distributors that will ultimately provide to patients. One Anne Arundel County grower has already harvested a batch of pot for testing purposes and is primed to ramp up production when the time comes, but when is the time actually coming? This is a question four years in the making, and each time an answer appears on the horizon new hurdles must be cleared. While it is unlikely that the entire program is in jeopardy, the coming weeks will certainly bring a few sleepless nights for the workers who put in hundreds of hours and the investors who put up millions in order to make medical marijuana a reality here in Maryland.
There are at least three current issues threatening smooth operation of the state's medical cannabis program, with two being on the state and local level and one on the federal level. The first issue is where to put all the dispensaries. The locations of the grow facilities have been set for months, and are scattered around the state in discrete industrial locations. These facilities are not open to the public, and will do their best to be out of sight and out of mind. The dispensaries are a different story, as they must be in areas that are accessible for the registered patients to pick up their medicine. The problem is that many residents in areas of proposed dispensaries are speaking out as to their disapproval of having medical pot shops in their neighborhoods. While these complaints lack a any sort of factual and rational basis (for example some citizens are concerned that dispensaries will bring crime and loitering riff raff) they are causing a stir that is being heard by state and local politicians. The program cannot function properly without numerous dispensaries to handle the high demand from patients.  A limited amount of dispensaries will severely disrupt the flow of the product from the grower to the patient, and will render the program relatively useless. The growers need the dispensaries as much as the dispensaries need the growers, so the hope is that all the zoning issues are sorted out quickly.
Another state based issue threatening the program is a recent decision by a Baltimore City Circuit Court judge that the case involving the disgruntled growers that were denied licenses will proceed to trial. The state had filed a motion to dismiss, but not surprisingly the judge ruled that it was a case left for the fact finder (judge or jury) to decide. A trial date has not been set, but the medical cannabis program will be allowed to operate while the case is pending.