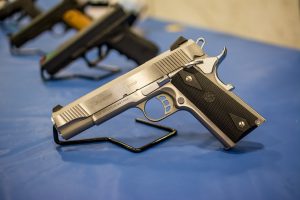 Last week Baltimore joined nine other urban areas in the nation as the newest members of the National Public Safety Partnership. The NPP was created in 2017 to provide federal assistance to areas with sustained levels of violence that are far above the national average. In order to be eligible cities or counties must be in compliance with federal immigration requirements and must demonstrate a commitment to reducing crime. Baltimore was overlooked as a 2017 pilot site, and again in 2018, in favor of other notoriously dangerous cities such as Chicago, Detroit, Oakland, Camden and Newark. But in the program's third year it became impossible to exclude Baltimore, which has sadly become the nation's murder capital. The FBI established a recent murder rate for Baltimore of 56 per 100,000 residents, a staggering number considering the next highest is Detroit with 40 per 100,000 residents. Chicago has long been perceived as the U.S. murder capital, but in reality its per capita rate is less than half of Baltimore's.
Being selected to join the NPP isn't exactly a cause for celebration, but there is hope that the increased federal funding and involvement will curb the constantly escalating violence in the city. The Maryland governor has routinely voiced his discontent with rising crime in Baltimore and has directed funding and law enforcement officers to the city in order to have gun crimes and other violent offenses prosecuted in federal court under Project Exile. Conviction rates are higher and prison sentences longer in federal court compared to the city's circuit court. In addition to Project Exile, a violent crime joint operations center with 200 dedicated officers from 16 different agencies is already in the works to put boots on the ground in the city's most violent areas. Additionally, the state has pledged money to the Baltimore Police Department to increase signing bonuses for new recruits, in response to the department's high turnover rate.
Though it has only been around since 2017, the NPP has already contributed to the reduction of crime in some of the pilot locations and the hope is that the same can be accomplished here in Maryland. The NPP provides a three-year commitment from the federal government and focuses on core areas of crime fighting. The first is federal partnerships, which basically means general cooperation between the city's leadership and police department and the DOJ and federal law enforcement. The federal government will provide assistance in crime analysis, technology, gun violence, criminal justice collaboration, community engagement and investigations. The feds will also appoint a strategic liaison to serve as the line of communication between the city and the Justice Department, and conduct an annual training symposium for law enforcement members.