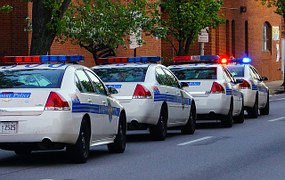 A veteran Baltimore City Police officer pled guilty this week to a racketeering conspiracy that included as many as nine robberies, many of which took place at the homes of city residents. The Maryland U.S. Attorney's Office announced the guilty plea after a hearing at the Baltimore federal courthouse. While the officer is not the first, and likely won't be the last, to admit to robbing private citizens he is the highest-ranking officer implicated. The 59-year old sergeant from the Linthicum Heights area of Anne Arundel County has been on the force since 1996, and became officer-in-charge of the department's gun trace task force in 2013. BPD formed the task force with the hopes of establishing a specialized unit more capable of solving firearm crimes, but the crimes committed by members of the task has outweighed any positive crime-fighting impacts.
The veteran officer admitted by way of his plea that he participated in nine robberies while employed by Baltimore Police, and that during the robberies he was armed with his service weapon. There is no indication the officer pled guilty to armed robbery, but these charges could have been dismissed pursuant to the plea agreement. Some of the robberies occurred as the officer and his co-conspirators carried out search warrants at the homes of individuals that were under investigation for drug distribution. The guilty officers often found large amounts of cash at these homes, and rather than submit the cash into evidence as required they would pocket most of the money, and then create false property receipts for the small remaining sums. Federal prosecutors even alleged that one of the robbery victims was shot and killed as a result of becoming indebted to a drug dealer after the officers stole $10,000 from his home.
Perhaps the most egregious part of the plea were the allegations made by federal prosecutors that the co-conspirators robbed citizens who were not even suspected of criminal activity. In order to cover up these robberies as lawful police activity this sergeant assisted in crafting fictitious arrest reports, incident reports and charging documents, that were sworn to and sent to judicial officers. Innocent citizens were basically terrorized by armed police officers in their homes and then jailed for the sole reason of covering up the theft of a few thousand dollars. The officer admitted to personally participating in the theft of over $90,000, but this money was likely divided up between other co-conspirators. Regardless, no amount of money would be worth the 20 years in prison the officer will face at a February sentencing hearing.